Our Apartments Are Pet-Friendly!
Looking for pet-friendly apartments in Marquette, MI? Look no further than Tourville Apartments! As one of the few pet-friendly communities, we proudly allow cats and dogs here. Now your pet has the opportunity to relax by your side and enjoy the comforts of your apartment home.
OUR PET POLICY
Dogs and cats allowed (limit 2 pets per apartment)
Restricted Breeds – call for details
Current vet records and picture required at move-in
No rodents or snakes allowed
PET FEES
$350 non-refundable deposit for 1 pet, $350 non-refundable deposit for 2 pets
$50 pet rent per month per pet
For further details on our pet policy, please contact our office staff.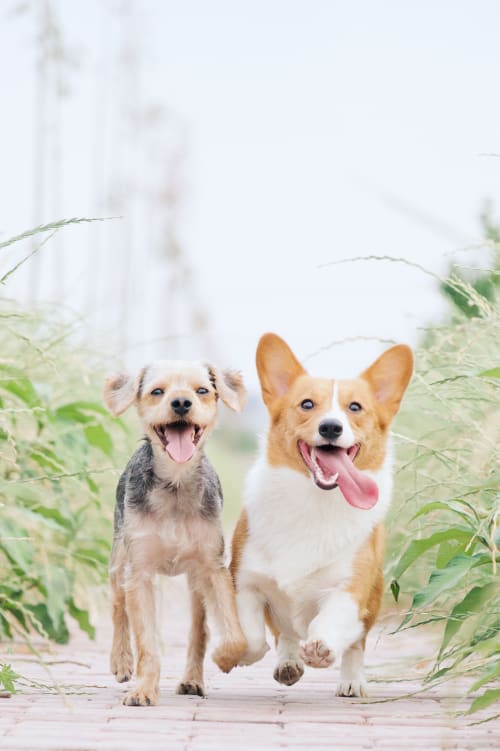 Testimonials
5 Star Review: We love it here!! So excited we are able to call this home! We recently moved in here and it has been a very quiet and friendly place. The apartment was very clean and appeared to be very well maintained when we moved in and it exceeded our expectations!

- Apartment Ratings
5 Star Review: This is my first time ever renting an apartment, I've always been in houses, but living here is just as quiet and private as a house with extra amenities! The staff is extremely helpful, the property is very well maintained and very safe!

- Google Review
Staff knows everyone and is very helpful! Maintenance is fast and effective and very courteous. Views and location are second to none. Most beautiful place to rent in Marquette and most affordable! Worth the wait on the waiting list.

- Apartment Ratings
5 Star Review: Staff is friendly and knowledgeable, maintenance is super efficient and quick, and the amenities here are awesome! Quiet area and close to everything in Marquette. Can walk to almost any where or drive in a matter of a few minutes.

- Apartment Ratings
5 Star Review: This is a great place to live--very well maintained and great location.

- Google Review
I have been renting for awhile now. Staff is friendly, any maintenance is done fast, and it's a great place to live.

- Google Review
Great views, staff is friendly, clean buildings, great price

- Google Review
I've had nothing but great experience with The management and staff! The gym and buildings are wonderful, quiet, and safe! Maintenance is on top of EVERYTHING! Very professional! The front office knows everything there is to know inside and out! Many friends and family live here.

- Apartment Ratings
The best apartment I have lived in by far. The staff is always very helpful easy to get a hold of, and the maintenance crew is always very quick to fix what needs fixing. Their apartments are very spacious and each building is kept very clean. The Health Club is amazing!

- Apartment Ratings
Just signed our second lease & wouldn't want to live anywhere else! Tourville Apartments are the best in Marquette county. The apartments are all very clean and well maintained. All the staff is very friendly and helpful.

- Yelp Review
I have enjoyed living at Tourville for the past 3 years. I truly appreciate their amenities and their service is superb.

- Google Review
Great place to live! BEST kept and maintained apartment complex in the UP! Very friendly, accommodating, and responsible staff! Highly recommended!

- Google Review